Just as he was, the life and legacy of Billy Graham
1 year ago Triangle 0
Written by: Nathan Ecarma, editor in chief
At the age of 99, Billy Graham died in his home in Montreat, N.C., at 7:46 a.m. on February 21. As of now, the cause of his death is unknown and deemed to be natural causes. He suffered from many illnesses, such as, prostate cancer and symptoms of Parkinson–and a condition which causes a buildup of fluid in the brain. His late wife, Ruth, said of the Parkinson symptoms, "This Parkinson's is no laughing matter. Overnight he has become an old man."
But Graham felt no fear in death.
Graham said, "Someday you will read or hear that Billy Graham is dead. Don't you believe a word of it. I shall be more alive than I am now. I will just have changed my address. I will have gone into the presence of God."
Born to a farmer, Graham grew up in North Carolina, where he acquired his Southern accent. When Graham was 16, a Baptist evangelist hosted a tent revival in Charlotte, N.C., that lasted 11 weeks. For the first few weeks, Graham refused to go. But a friend asked him, "Why don't you come out and hear our fighting preacher?" The thought of a fighting preacher intrigued Graham, and so, he went the next night, but he left as soon as he could because he did not like the idea of being sent to hell. But Graham spent the next day in misery. He said, "I couldn't get there soon enough the next night!"
His first evangelistic crusade was in 1947, but his ministry hit fame in 1949 in Los Angeles when a "tent meeting" ran for eight weeks instead of three. His fame is the result of William Hearst, owner of several newspapers, and Hearst's directive to "Puff Graham." Other newspapers and magazines followed the lead, filling up those big tents in Los Angeles with press.
Many years later, Graham said, "Suddenly, what a clergyman was saying was in the headlines everywhere, and so was the box score of commitments to Christ each night."
Graham's ministry even went worldwide, having preached under monarchies and communist regimes. A popular Netflix Original Series, The Crown, portrays the friendship between Graham and Queen Elizabeth II, which reflects reality, as the two developed a friendship. Graham preached a sermon in the family's chapel on Easter Sunday of 1995.
In his autobiography, Just As I Am, he said, "I was sitting next to the Queen at lunch. I told her I had been undecided until the last minute about my choice of sermon and had almost preached on the healing of the crippled man in John 5. Her eyes sparkled and she bubbled over with enthusiasm, as she could do on occasion. 'I wish you had!' she exclaimed. 'That is my favorite story.'"
In 1973, Graham held his largest Crusade in Seoul, South Korea, with over 3.2 million attendees.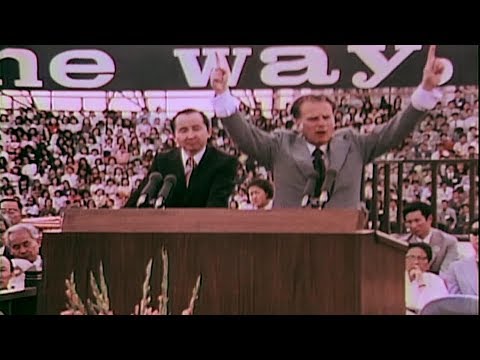 Graham was not without his slurs. Graham and President Nixon maintained a close relationship during his presidential administration. A conversation between the two was recorded in 1972 and released back in 2002 where Graham and Nixon were conversing about the influence of Jews on America. They went back and forth about how the Jews had taken over the media and had too much power. "A lot of Jews are great friends of mine," Graham told Nixon. "But they don't know how I really feel about what they're doing to this country, and I have no power and no way to handle them." Nixon replied, "You must not let them know."
When the tapes surfaced, Graham apologized, explaining he did not remember the conversation: "I will continue to strongly support all future efforts to advance understanding and mutual respect between our communities [Christians and Jews]."
Despite his slurs, the world knows and acknowledges Graham for his integrity.
New York Times writer Laurie Goodstein said, "By maintaining fiscal integrity and personal probity — he stuck to his rule never to be alone with a woman other than his wife — Mr. Graham kept himself untarnished by the kind of sex and money scandals."
According to Gallup polls, Graham made it on their "Most Admired" list 61 times—nearly twice the amount of anyone else.
President of Southern Seminary, Dr. R. Albert Mohler Jr., said, "But what I saw affirmed so personally in the midst of that 2001 Crusade where I served as Chairman, was the integrity of Billy Graham and the fidelity of his ministry, and the straightforward, almost rifle-like shot of his preaching."
Librarian Kevin Woodruff was another one of the millions who went to one of Graham's crusades. At 17, he walked 5.1 miles to see Graham speak at Haymarket Arena in Indianapolis, Ind. He said, "He was a man of tremendous integrity. He had the Billy Graham Rule. He was never in a room alone with a woman that was not his wife."
Professor of Christian studies Dr. Peter Held said, "When he was faulted, he owned it. He didn't try to cover things up. That's what I mean by integrity. People respected him for that."
"He was attacked from both sides." Fundamentalists would not embrace him because he allowed other denominations and Catholics to take part in his crusades. Liberals attacked him because "he was so dogged about this Gospel that was too narrow." But Graham, Held said, would "not waiver from the basic facts of the Gospel."
His integrity brought the crowds and lent itself to the trust of the crowd. Held said, "He has probably been seen physically more than anyone else in human history."
Professor of communication Michael Palmer said, "The Gospel itself is miraculous and liberating and speaks to the core. He honored the Gospel, and that's what made him powerful." Like Aristotle, Socrates had persuasive communication proofs. One of Socrates' proofs was goodwill. That's what Graham had towards his audience, said Palmer.
According to the Billy Graham Foundation, he preached to around 215 million people and hosted 400 Crusades. During the week of his 95 birthday, he preached his last sermon, broadcasting through 480 televisions to 29,000 churches.
Graham held his crusades in more than 80 countries, preaching to over 80 million people. His crusades consisted of Graham preaching, George Shea and Cliff Barrows leading musical worship and then an invitation to the crowd to receive Christ as their savior. Held said, "Graham would often say something like, 'If you're in the farthest part of this auditorium, it will only take you five minutes to walk down.'"
He preached a consistent, simple message that was based on the Bible, Held said. "I remember him pointing that big, bony finger in the air and saying, 'The Bible says. . . The Bible says.'" Each crusade featured Graham's favorite hymn, written by Charlotte Elliot, "Just as I Am."
Graham had arranged the details of his funeral 10 years ago. The funeral reflected Graham's crusades, featuring everything but Graham's preaching. Last Friday, around 2,000 flocked to the service and over 100,000 viewed it online. Virginia Graham, one of Graham's daughters, spoke about the love between her parents, and then she read a poem from her mother about the man she prayed for. A line reads,
"and let his face have character,
a ruggedness of soul,
and let his whole life show, dear God,
a singleness of goal;"
Franklin Graham stepped up to the pulpit, the same from his father's crusades, to preach the same gospel that his father preached. He said, "My father preached on heaven, told millions how to find heaven, wrote a book on heaven, and now he's in heaven. His journey is complete."
His coffin is a simple pine plywood coffin that was made by inmates at the Louisiana State Penitentiary in Angola. He lay in the U.S. Capitol Rotunda, having been the 32 person to be honored with the rare privilege.
Nathan Ecarma studies Bible, culture, and language. He serves on the Worldview Initiative and as Editor-in-Chief for the school newspaper, the Bryan Triangle. In between theological conversations, he enjoys binge watching Netflix and attempting to sing his favorite songs.